North Tyneside Carers' Centre celebrates 25 years
It is with great pleasure that we invite carers to join us for a celebratory virtual afternoon tea on Tuesday 15th December at 4.30pm via Zoom to celebrate the Centre's 25th anniversary!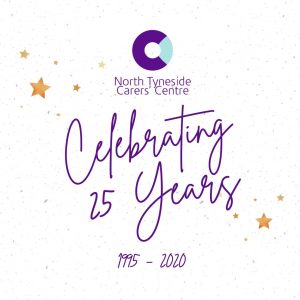 Our Story…
North Tyneside Carers' Centre's origins can be traced back to 1994 where a group of female carers found they had nowhere to go for support. They decided to approach North Tyneside Council to request access to a room where they could meet socially and support one another.
If anyone can get things done it's carers! Shortly after this initial meeting, a steering group was formed by the women who then approached the Princess Royal Trust for Carers in London to help set up the very first Carers' Centre in the borough of North Tyneside.
The "official" birthday of North Tyneside Carers' Centre is credited as being 1995 when North Tyneside Council came onboard to support and fund the Centre. Originally we had just 2 members of staff and a Board of Trustees. Over the next 25 years the team has grown to 20+ permanent members of staff and the support of over 104 Carers Trust network partners across the UK. Thanks to this membership, we can influence policy on behalf of carers at a local and national level.
Where will we go in 2021 and beyond? 
Staff, volunteers and Trustees at North Tyneside Carers' Centre are all working towards a corporate strategy that outlines our strategic goals and priorities as part of a 5 year plan (coming into fruition by 2023). This builds on what we have already achieved so far but also expands our reach, service offering and reputation as a responsive, aspirational, empathetic, empowering and approachable organisation here to support cares of all ages and backgrounds in North Tyneside.
COVID-19 certainly caused a whirlwind of disruption to not only our lives, but carers' too. We are continuously looking at ways to deliver the same high level of support virtually and in-person where it is safe and appropriate to do so. In 2020 we made the decision to move to new premises, signalling the start of a new chapter for the Centre, and an organisational aim to improve accessibility to our services. We very much look forward to welcoming carers to our new light, bright and airy premises within the Saville Exchange, Howard Street, North Shields in 2021.
A local service for local carers 
Locally, North Tyneside Carers' Centre is seen as a hub for carers. We strive to be a trusted and valued "safe space" for carers to seek guidance, information and support. The kettle is always on here and we'd like to thank professionals working across the borough for their continued support in identifying and referring carers to our free service. We are responsive to and led by the needs of you – carers in North Tyneside are facing difficulties with care home visits, hospital discharges, access to services, advocacy, waiting lists for support and much more thanks to the disruption COVID has caused. Sadly, many are also experiencing bereavement after the loss of a loved one this year.
As part of our priorities to work with other agencies, the public and carers to help them understand their caring role, lead a more fulfilling life and promote the value and contribution of carers to our economy we will be launching a series of new events, workshops, training programmes and creative sessions for carers and professionals in the new year.
Our newly published carers' and professionals' training prospectuses are available online, or we can send you a copy, so you can ensure you have access to the right support and information. Please contact us via enquiries@ntcarers.co.uk or call us on 0191 643 2298 to receive a copy.
Celebrating 25 Years of North Tyneside Carers' Centre – 15th December 2020