Peer Support Groups & Social Activities
You can often feel isolated as a result of your caring role. We understand how important it is to have someone to talk to and to have the opportunity to relax and take a break from caring. We therefore deliver regular peer support groups and social activities across North Tyneside. Many of our groups and activities are run by volunteers who are carers themselves and you will have the opportunity to:
Talk to others who understand what you are going through
Share your experiences and learn how others cope.
Exchange practical advice and information about services and activities
Access ongoing emotional support
Relax and enjoy taking some time out from caring
Make new friends and new social networks
Have fun and try something new
We understand that it can be difficult to walk into a group or activity for the first time, so you will be greeted by a worker or volunteer who will make you feel welcome. They will offer you refreshments and introduce you to other carers. If you prefer we can arrange for one of our workers to contact you before you attend and discuss your concerns or go with you.
Please click here to see our calendar of events or check the Autumn programme below: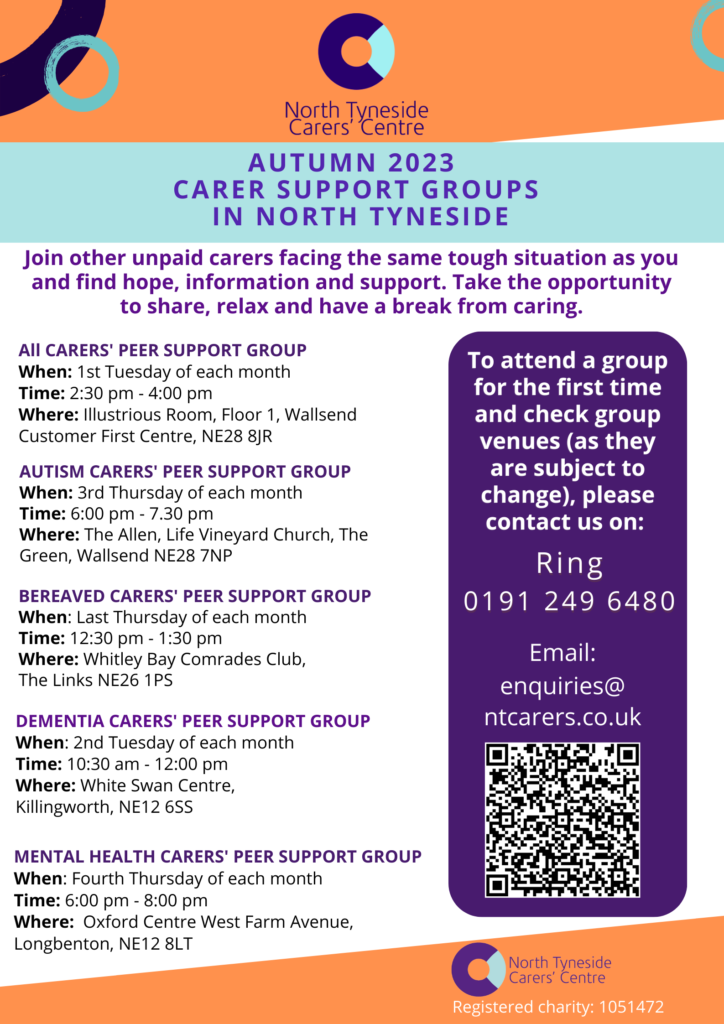 If you are unable to leave the person you care for to attend any of our groups or activities, please contact the Centre and we will discuss the options available to you.
Quote from carer
"It is such a relief to share thoughts and feelings with likeminded people without judgement or guilt. To explain a problem, feeling or situation and see people nodding and saying 'I've been there – try this".