Carers Week 2022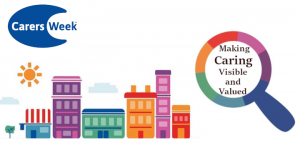 Carers Week is an annual campaign to raise awareness of caring and highlight the challenges unpaid carers face. The week of events and activities that take place up and down the country aim to recognise the contribution you make to families and communities throughout the UK. It also helps people who don't think of themselves as having caring responsibilities to identify as carers and access much-needed support. The campaign is brought to life by thousands of individuals and organisations who come together to provide support for carers, run activities, highlight the vital role carers play in our communities and draw attention to the importance and value of caring.
The COVID-19 pandemic had a monumental impact on unpaid carers' lives – not only because of the increased amount of care that many provided – but because of the far-reaching affect that providing this level of care has had on their lives. Many people also took on new caring responsibilities for their relatives and friends who are disabled, ill or older and who need support. It is vital carers are recognised for the difficulties they experience, respected for providing unpaid care for their loved one during incredibly challenging times and provided with information, guidance and the support they need to care safely. 
During Carers Week, we are coming together with organisations around the country to make caring Visible, Valued and Supported.
We are delighted to introduce you to this year's activity programme for Carers Week 2022. To book yourself on any of the activities; please call: 0191 6432298 Monday to Friday between 10.00am – 4.00pm or email enquiries@ntcarers.co.uk.
Wellbeing Walk – Monday 6 June  
We will meet the walk leader at Wallsend Metro at 11am. He will take us on a guided stroll to Richardson Dees Park which is a beautiful, semi-formal Victorian park dating back to the 1900's. The park has a range of recreational facilities and has a variety of plants including formal flower beds, mixed herbaceous and shrub borders. There are also areas planted to attract bees and wildlife. To the north  of the park there is a small lake and burnside paths that run through mixed woodland, offering the opportunity for quiet strolls among the trees. After your walk the group will meet for an afternoon tea at 1pm in the Community Pavillion.
Beamish Museum – Tuesday 7 June 
This outing to Beamish Museum is for carers and the person they care for. There are 40 spaces, twenty for carers and twenty for the person cared for. The coach will be parked in Norfolk Street in North Shields, across the road from the Carers' Centre at 9.45am and will depart promptly at 10.15am. We will leave the museum to head back to the Centre at 4.30pm. When booking a place for you and the person you provide care for, we will need both of your details and emergency contact information. 
Please wear appropriate clothing and footwear on the day. We are asking carers to either bring a packed lunch with you or purchase food at the museum as food will not be provided. 
An acoustic set with Dave and Ian from Lindisfarne – Thursday 9 June 
We have great pleasure in introducing you to an evening with Dave and Ian from Lindisfarne. 
During the 70s Lindisfarne were one of the most renowned folk-rock bands in England. They were proclaimed as one of the most important groups of the decade, with a repetoire that mixed folk melodies, distinctive harmonies and acoustic arrangements. Please join us for an evening of unforgettable songs. The person you care for is also welcome attend this event with you. 
The gig will take place on Thursday 9th June from 6.30pm – 8.30pm at the:  Exchange Bar Saville Exchange,
Howard Street, North Shields. 
Online Bingo Session via Zoom – Friday 10 June
Brought back by popular demand from 6pm – 7pm. Following the success of the sessions we ran during lockdown, we decided to round off our Carers Week events with another fun online bingo session. Grab your dabber, eyes down and look in! Vouchers will be up for grabs as prizes.