Supporting Carers with Training Sessions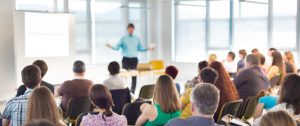 Last year we delivered 59 sessions to carers. In total, 135 carers attended sessions to improve their knowledge, skills or confidence in their caring role.  We always aim to ensure our sessions meet carers' needs and we are delighted the feedback has demonstrated this. We continue to provide beneficial training to carers and professionals as we move into 2022. 
Following an Emergency First Aid session one Carer commented: "A well presented course, easy to understand giving me more confidence with regards to some basic areas of first aid".
A real success for the Carers' Centre was the partnership work with Marie Curie to develop the Caring at End of Life programme; supporting carers who are caring for someone with a life limiting condition. The feedback from this programme was overwhelmingly positive. We are continuing to work in partnership with Marie Curie and during 2022-23 and will be running two further programmes.
Plans for coming year 
We are currently planning the training offer for 2022-23.  We want to ensure that our training continues to meet professionals and carers' needs, so if there are any themes or topics you would like to see on our programme, please do let our Training Officer know. 
We also have been undertaking a comprehensive review of our training for carers who are supporting someone with dementia.  It has been a privilege to receive input from carers who have lived experience.  Their input will help us to ensure that our training supports carers at all stages on their dementia journey.  We plan to have the revised programme ready for roll out from April 2022. 
Other training news
We are delighted to welcome Barbara and Jan (Training Assistant volunteers) to the Carers' Centre. Both volunteers have experience of caring for someone and they will be supporting our Training Officer at sessions and with the administration of programmes and sessions.