Celebrating Carers' Rights Day 2020
Carers Rights Day is a national event that helps organisations involved with carers ensure that carers are aware of their rights. The day also aims to let carers know where to get help and support and most importantly perhaps, raises awareness of the needs of carers.
We hosted a jam-packed day of virtual events on 26th November 2020 for Carers' Rights Day. Free sessions for carers took place throughout the day focusing closely on:
what to consider and what your rights are if your loved one goes into hospital or a care home
exploring the benefits you may be entitled to asa carer and give you some useful hints and tips for completing benefit forms
we looked at how mental capacity is assessed and how this needs to be carefully considered when managing somebody's affairs
we invited professionals from a range of backgrounds to join us to hear more about the challenges that adult carers are facing during this difficult period and discuss the support that North Tyneside Carers' Centre is offering during the COVID-19 pandemic
we looked at your rights as a carer in work including how to request flexible working arrangements
our "Commonsense Confidentiality" session was for carers who support someone with a mental health condition. Paul Nicol from Cumbria, Northumberland, Tyne and Wear NHS Foundation Trust delivered an information session about Commonsense Confidentiality and how this can empower carers to request the information they need to continue caring
we held a session on Carers' Wellbeing Assessments and how they could be of benefit to you in your caring role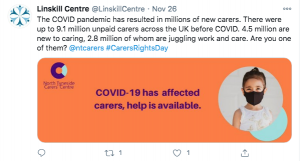 In addition to this, we organised a social media takeover on the day, partnering with North Tyneside CCG, charitable organisations VODA, Healthwatch and the Linskill Centre to amplify our key messages throughout the borough and help us reach more people.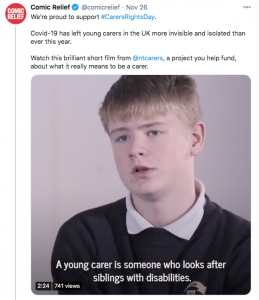 We'd also like to thank Comic Relief, one of our funders, for sharing a video young carers in North Tyneside produced on their global platform to help raise awareness of Carers' Rights Day and the effects covid-19 has had on their physical and mental wellbeing.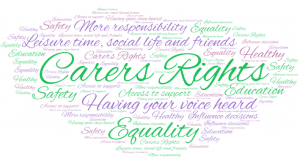 On the day, young carers took part in a word cloud activity to share ideas and thoughts on what carer's rights mean to young carers. We're sharing it with you here as it's a fantastic summary and written from the heart.
Locally, we were delighted to partner with Director of Public Health for North Tyneside Wendy Burke who shared a message of thanks and appreciation for us on her channels to further spread the message.
Last but not least, we launched a brand new training prospectus for carers on Carers' Rights Day. This is a fantastic summary of all the training we provide for carers to access here in North Tyneside.
To download a copy of our 2021 Carers' Training Prospectus please click the link below: 
NTCC Carers Training Prospectus 2020
To request a printed copy from us, please email enquiries@ntcarers.co.uk.
Carers' Rights Day was a fantastic day of awareness for our team here at the Centre and we very much hope for you too. If you missed any of our sessions, or want to find out more about some of the events we run please view our upcoming events page or email training@ntcarers.co.uk.
Thank you for being part of Carers' Rights Day 2020, we'll be ready to make even more noise next year in 2021!