Carers' Stories: David and Anne
All too often, carers easily become statistics. A hidden army working long into the night, working tirelessly, juggling jobs or childcare with the needs of the person they care for. It's part of our tireless, ongoing mission to show the people behind the label of "carer" because carers are still people with their own needs, dreams, issues and aspirations.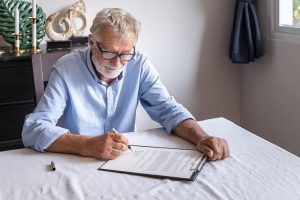 Today, we're sharing David and Anne's story. Anne very sadly passed away in January 2019 and bereaved carer David who continues to give back through volunteering. 
Although I have had a loose association with North Tyneside Carers' Centre going back to 2007, it was suggested nine years later by my wife Anne's Parkinson's Nurse at Rake Lane, that the time had come when I should consider using the services of the Carers' Centre. With my permission, she kindly got back in touch with the office and as they say "the rest is history". I suppose you could say we had coped happily and adequately during the intervening years doing everything together but suddenly Anne's condition changed.
Anne passed away early in January 2019, but in the previous three years I began increasingly to rely on Carers' Centre for a little "me time" and it was the best thing I did.
During my time as a carer we were sign posted for suitable carer relief before making a decision ourselves on who to choose. This was especially welcomed in 2018 because it allowed me to spend a few days away, thanks to excellent liaison between the P.D.Team, AUK North Tyneside's Everyday Service and the Carers Centre.
Happier memories of being a carer were attending various courses and seminars at the Carers' Centre at the YMCA this included Handling procedures, Relaxation techniques, Stress management plus numerous coffee mornings in Whitley Bay and North Shields.
I was also invited to sit on the newly created Adult Carer Forum. There is also something dear to my heart which has helped form a continuing bond with the Carers' Centre and made some lasting friendships which is the Male Peer Support Group (PSG) which continues to operate and reinvent itself formally, informally and fingers crossed prior to Lockdown returning to formal once again! After a sticky period due the end of a particular project at the Carers' Centre in 2019 four members of the established male PSG (we call ourselves The Gang of Four!) stuck together and met once a month for a snack at the same time as the group had met. We kept in touch with Sue at the Carers' Centre letting her know what we were doing and the group became official again. The Gang of Four have keep in touch throughout lockdown via email and being actively part of the online activities that the Carers' Centre has established.
At one of PSG coffee mornings a couple of years ago the Carers' Centre shared some publicity about  newly established Uretreat at Riding Mill, which specialises in one day breaks for both carers and bereaved people. I am proud to say I was the first carer from the Carers' Centre to attend and have been several times since. I have recommended the respite and quite a few others have subsequently gone and thoroughly enjoyed their "me time". I like to see myself as a link between the two charities knowing members of both sets of staff quite well. I would urge you, if you possibly can, to try one of the day breaks post lockdown if they are on offer in the future.
This period has also marked my recruitment as a volunteer. I know several members of staff and volunteers quite well from coffee mornings, but my main contact is Sue through the male peer support group. Sue asked me last autumn how I might feel becoming a volunteer. It came at the right time in my healing process and complements similar work I carry out for AgeUK North Tyneside. In some instances the work overlaps so I jumped at the opportunity. We are all different, but my volunteering and connection with these charities continues to help me cope with my loss and grieving. Friendships remain firm as do newly acquired skills heightened by involvement in TEAMS broadcasts! I continue to sit on Adult Carer Forum and hope sharing my experiences as a carer can be put to good use. This has led to meeting several members of the Trustees one of whom is normally present and Chairs the meetings the Forum normally every six weeks.
Have I learned anything new? You could say that! At the commencement of lockdown, I was asked if I would like to carry out some administrative tasks to assist members of staff from the comfort of my own lounge. This has given me an insight into the difficulties our hard working team are facing, yet keeping in touch with carers on a day to day basis. There is always somebody at the Carers' Centre for you.
I am no artist but recently took part in an online virtual art session and made a card. As it was two days before my 70th birthday, I put it out on show with ones which I received as though it was from Anne, I am sure she would approve!  I truly believe having been a carer I have been fortunate, first of all benefiting from the support that is there for carers and then to be able to find my connection continues and secondly (hopefully) that others might benefit directly or indirectly from my experiences.
Plans for the future? Continuing as I am doing throughout lockdown. Thank goodness I have been able to do voluntary work at home if only to keep me sane! Ultimately to become involved with various projects and activities I had just got involved I in that Lockdown has temporarily put an end to!