New Rights for Carers!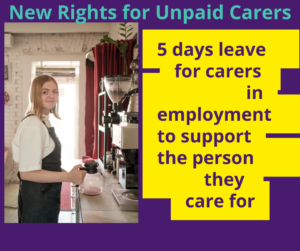 On May 24, the Carers' Leave Act became law and changed the working lives of carers who are also in employment.  The new law helps working carers remain in work by giving 5 days of leave each year to cover tasks such as accompanying the person they care for to hospital appointments. It is expected to be rolled out in 2024.
We will soon be delivering a training session about how this right and other laws can be used by carers to allow them to remain in work, please keep an eye on our training updates.
In the meantime, our Carers Into Work team would be happy to discuss these rights and other solutions to help you to remain in work. Please get in touch on 0191 249 6480. We'd be happy to help!