My Next Chapter – Erin's Story
It feels like forever for young carer Erin since she was first introduced to North Tyneside Carers' Centre aged 15 via a referral from the family's social worker. After the tragic passing of her dad and Erin's mum's diagnosis of Borderline Personality Disorder, anxiety and depression; the family's social worker and Erin's school connected her to North Tyneside Carers' Centre for ongoing support.
Fast forward to September 2020 and Erin has just finished her first day at Northumbria University as an undergraduate studying for a BA in Business and Financial Management. Now aged 19, Erin is not only leaving home for the first time to go to university, she's starting a new chapter as a young carer…. all in the midst of a global pandemic.
Finding her independence and creating a life outside of the label of "young carer" has been important for Erin, who is keen to stress to others that being a young carer is not what people think it is. "Young carers are usually seen as slaving away chained to their parents" she laughs when we spoke to her for this blog post. She doesn't want anyone thinking that they can't leave home or go away to study or for work because they care for a parent or other family member. Wise beyond her years, Erin sagely reminds us that you can always be there for your parents [or person you care for] no matter what but you have to live your own life too.
Wise beyond her years, Erin sagely reminds us that you can always be there for your parents [or person you care for] no matter what but you have to live your own life too.
Erin is certainly adjusting to life as a student: despite being the only girl on her course, she knows this is an opportunity she has to make the most of. After a successful results day this summer, Erin's Level 3 BTEC in Business got her a place at Northumbria University. In the wake of a potential second wave of coronavirus, there is some uncertainty about what will happen at her Halls of Residence as 6 flats already have confirmed coronavirus cases. Full of enthusiasm and excited about this new chapter however, it seems Erin will take it in her stride and meet those challenges head on when they come.
It was a choice between staying here in the North East or moving to Leeds to study. Erin chose to study in her home town and is looking forward to meeting new people and enjoy this new experience as a student. If experience has taught her anything, it's that she might be needed at home for a few days if her mum starts to struggle. After spending time with the Centre's Heads Up group learning more about her mum's condition, Erin and her family can now recognise the signs if things start to slip. Checking in with her 13 year old sister (who still lives at home) often, Erin has her own invaluable support network in her Halls of Residence, living with her best friend who also comes from a caring background.
For young carers in Erin's position, the Centre's Tuesday night group became an important place to come and hang out and meet other young carers who "got" what life was like when your parent or family member relies on you for emotional and practical support. The whole young carers team are enormously proud of, and pleased for Erin, we'll be here for her whenever she needs us as she moves from being a young carer to a young adult carer.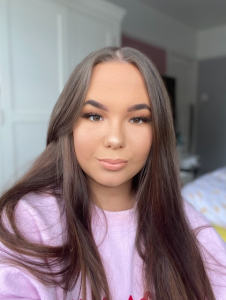 We wish Erin every success in her new chapter –
Erin is a young carer but even more so a capable, determined and inspirational young woman.